Be Kind with Boogie Wipes!

Be Kind with Boogie Wipes!
This cold and flu season, Boogie Wipes is distributing thousands of Boogie Wipes through their Saline Ambassadors and Kindness Agents.  It's our small way of sending some comfort and kindness into the world.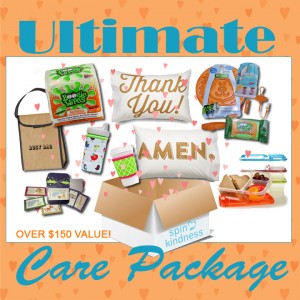 And, we hope this will inspire further acts of kindness and comfort this season!
Discover ideas for ways you can be kind this cold and flu season on our blog page. You can also download Spin Kindness Cards to share when you spin kindness into your community.  Be sure to come back and share your stories with us!
Be sure to enter our big giveaway!  You could win an Ultimate Care Package for you and for two people you choose!
---
Share your story!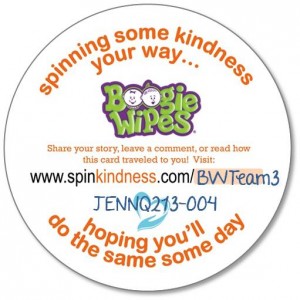 Did you give or receive some kindness? We'd love to hear your story!  Please comment below. If you have a tracking number, be sure to include it in your comment so we can see how the kindness spreads.
This is an example of a Spin Kindness card with tracking ID #JENNQ213-004.  If you have one of these, please tell us about it using the ID number in your comments below.  We hope you'll pass it along and keep the kindness moving!