Did you have a grandmother who hosted warm, family-filled Easter brunches? Did your grandfather spend time teaching you about Spring gardening? Have you ever received wisdom or kindness from a senior who showed nothing but love for you? Now is the time to give back by sharing a little kindness with seniors in your area.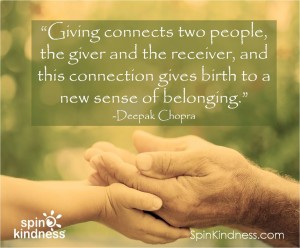 Grab a friend or family member and head over to a local senior center, a retirement community, an assisted living residence, a local park, or other location with seniors. Bring flowers, candy, and/or note cards. Spend a little time: read (uplifting) stories in the newspaper, do a puzzle, play cards or a game, or just spend time holding hands. Show kindness in any way you can.
Here in Oregon, a group of us will be visiting assisted living communities to bring Easter cheer to those without family. Grandma used to make Easter magical for us, so we are going to find some Grandmas and Grandpas to surprise with Easter treats.
Are you in? Let us know what you are up to and post photos if possible. We'll be on the lookout for kind people to send some special kindness to!