Thank you for your interest in this project!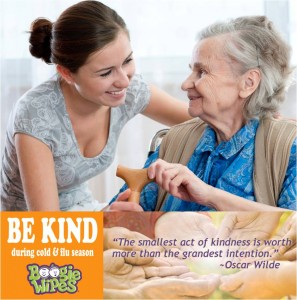 We need help sharing the mission of Spin Kindness and recruiting Kindness Agents to join our movement. We're looking for bloggers, writers and social influencers to demonstrate how Spin Kindness works by being a Kindness Agent for Boogie Wipes and sharing the experience.
The Mission: No one should be uncomfortable during cold and flu season. Let's comfort those in need by showing some kindness with Boogie Wipes and other seasonal comforts!
The Boogie Kindness Kit contains a variety of personal care items to keep people healthy during the cold season plus other fun items to cheer up those feeling a bit "under the weather".
For this project, we are specifically looking for Bloggers interested in sharing the power of kindness. Are you one? Fill out the form below to apply.  If you are selected, you will receive a Spin Kindness Kit from Boogie Wipes.
---
Kit Details and Expectations:
We are hoping to identify influential social media users to help us spread the word about Spin Kindness.  Specifically, we'd like to see posts about the experience of doing not-so-random acts of kindness that will show the power of kindness and help us recruit Kindness Agents.  With Boogie Wipes as our sponsor, you may also want to talk about "Being Kind during cold and flu season" or about how brands can use their products to inspire kindness.
KIT
Kits include lots of Boogie Wipes product samples to share, mini first aid kits to give to moms, gift bags and totes to make sharing easy, fun items to reduce the spread of germs, gifts to comfort people during cold and flu season, and some fun activity items for kids. You are allowed to keep the items you need, then share the rest along with our pre-printed Kindness Cards. The kit is valued over $150. Depending on how you write and share your posts, you may need to disclose that you received free items to share. However, this is NOT a product review or sponsored post.  We're looking for stories about spreading kindness.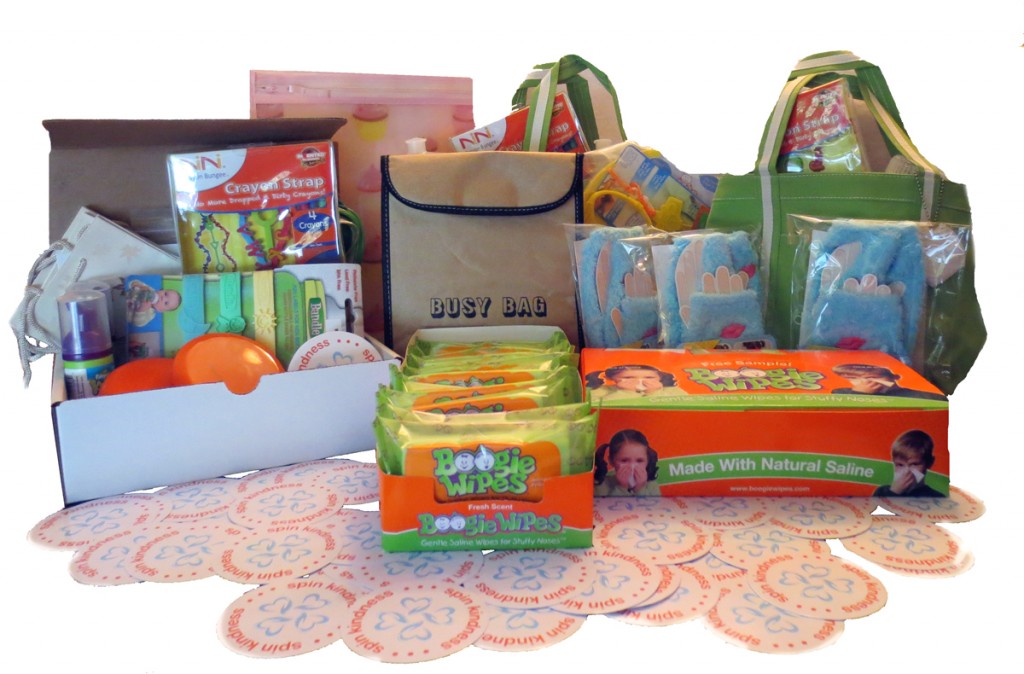 OUR HOPE
Because we expect the best of people who are interested in our kindness programs, we do not establish specific requirements for our participants.  However we do hope that agents involved in this project do the following:
1) Read through our inspiration and ideas note that comes with the kit.
2) Assemble or group products to prepare them for handing out.  You have TOTAL freedom here!  Our main objective is to give you the experience of sharing kindness.  You can involve friends, your children, or do it alone.  You can visit the elderly or sick in care homes, or you can leave the Kindness gifts in public places and not even talk to anyone.
3) Include a Spin Kindness round card with every kindness gift you hand out. You'll want to include your name or a code on the back so recipients can "track" where it came from or share how they are passing the kindness forward. The card will direct people to THIS PAGE where you and they can comment.
4) Take photos of items and/or the experience for sharing on the internet. Photos inspire others and help us show the impact of kindness. Use #SpinKindness and #BoogieWipes when sharing.
5) Complete the brief online report after you have completed your project.
More for YOU
Boogie Wipes and Spin Kindness will also select two stories to highlight on our social media accounts. These two "winners" will receive lots of love from our followers AND a $50 Amazon gift card!  We'll be selecting winners based on kindness acts completed using the kit and cards, photos posted, sharing the Spin Kindness mission, and overall inspiration of the post.
NOTE: If you post a story on your blog, you can also include the code to our big giveaway hosted on Rafflecopter.  We'll include an entry of your choice in the giveaway (get visitors to follow you on Twitter, Instagram, etc.)
---
 Apply Now!
Please complete the form below.  If you are having trouble entering your information, you can use this link.