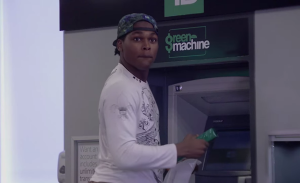 We love to hear stories of companies spreading kindness.  Recently, Canada bank TD was in the news for creatively surprising special customers with thoughtful gifts.  As the customers used the ATM inside the bank, they were treated to lavish gifts and meaningful events.
In addition, over 20,000 TD employees across Canada distributed green envelopes containing a $20 bill to every customer in more than 1,100 TD branches. Plus, thousands of others using online banking and phone services were informed that they would receive a deposit directly into their accounts. A total of 30,000 customers were treated by the bank.
We love how TD chose to use their promotional budget to directly impact the lives of others. We also love how the world "pays back" these caring companies.  In this case, thousands of TV segments and articles were created along with viral word-of-mouth sharing across the world and across social media.  This YouTube video has already received more than 7 million hits.  You can't buy that kind of positive promotion.  Great job, TDBank!

Do you know a Caring Company?  Tell us about them so we can share their story!