Exciting weather. Fun vacations. Kids playing. Family visiting. Shopping. Wrapping. Cleaning. Cooking. Chaos…
We look forward to it all year long: the holiday season! It's a time filled with family and friends, treats and gifts, and a lot of activity.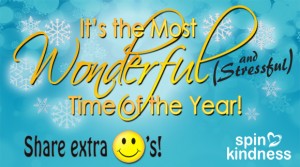 Unfortunately it can also bring a lot of extra stress with post office lines, packed shopping malls, extra cooking and baking to do, extra work like planning, cleaning and wrapping gifts. Even if we keep out cheer, we are bound to run into others who have lost theirs.
Let's use kindness to keep the spirit of the season alive! Watch for ways to help others:
Hold the door open for strangers wherever you go
Offer help to busy holiday hostesses
Be a courteous driver
Visit assisted living facilities and spend time with the elderly who do not get many visitors
Wrap presents for busy family members
Share home baked items with neighbors and strangers
Leave kind notes on cars
Be patient and thankful with store clerks
Buy socks and take them to a homeless shelter
Allow others to go in front of you in line
Provide warm beverages to delivery people, outdoor workers, bell ringers
Have gift cards on hand to give as acts of kindness
Organize a volunteer time for your family to do together
Send personal cards
SMILE!
Have more ideas?  Share them!